---
What class is best for my child?
Each class, from newborns to those who are ready for more advanced musical training, is designed to be appropriate for your child's current developmental level. In addition, our teachers take the time to tailor activities to best fit the makeup of each individual class. Generally speaking:
Foundations: Village 0-18 months
Level 2: Our Time 18 months-3 1/2
Level 3: Imagine That 3 1/2-5
Level 4 & 5: Young Child 5-7
Because we know that each child develops at their own rate and has unique needs, we are happy to personally discuss with you what will work best for your child.
May I join a class at any time?
Yes, we'd be delighted to have you! The Kindermusik Semester curriculum is structured so that you may join at any point during the session. If you enroll after the session has begun, your tuition will be prorated when you register online to only include the remaining classes. Subscription classes are paid monthly.
What is your refund policy?
Like other activities your child is enrolled in, whether swimming, dance or soccer, when you register, we reserve a space in the class for your child for the entire semester. As classes have a maximum number of children we can accept, we unfortunately sometimes have to turn away students, because your space is entirely committed to your child, and we will not give it away, or double book. Even with the monthly classes, we do expect a semester commitment.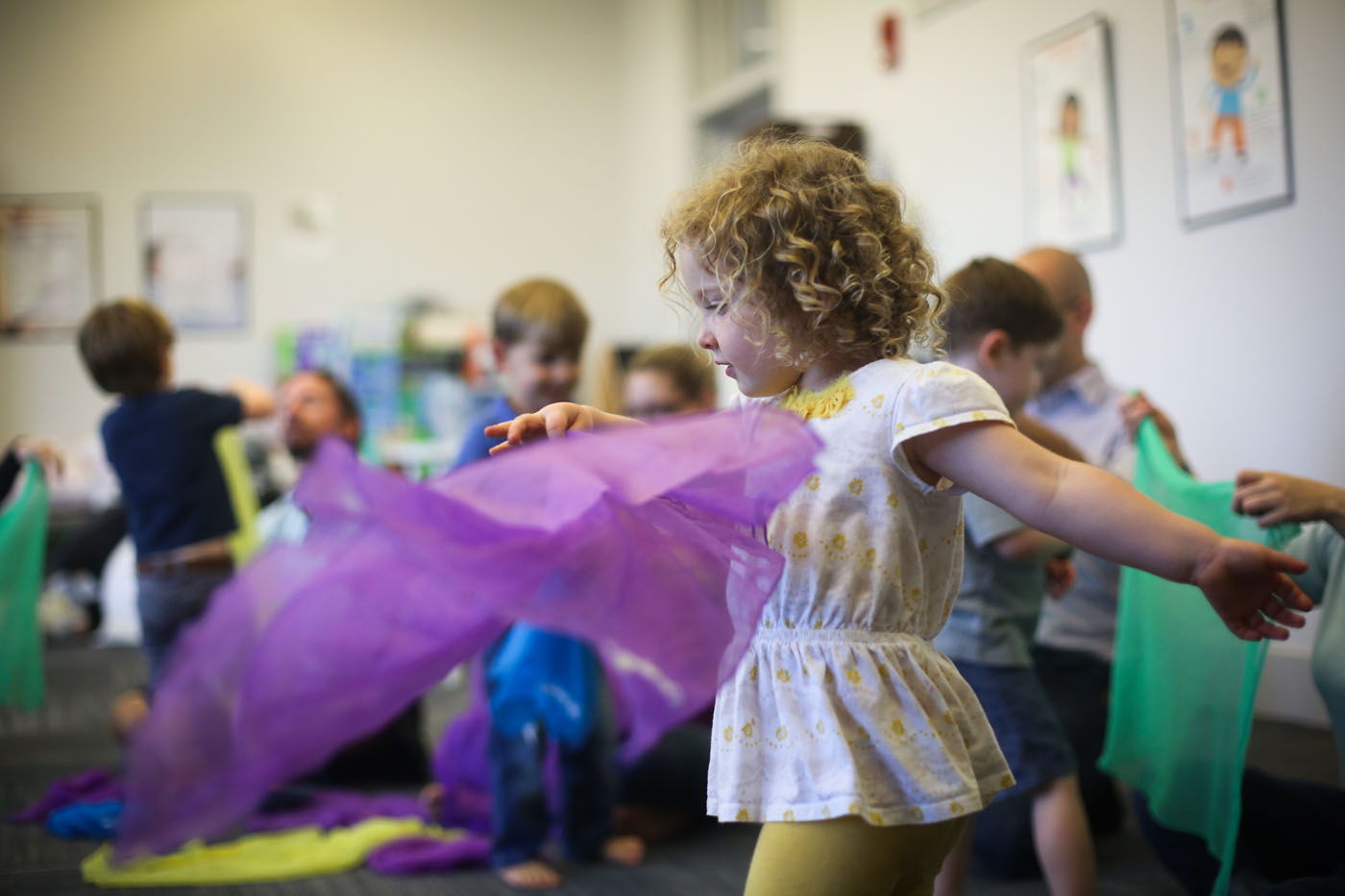 If you would like to check out a class BEFORE enrolling, we would be happy to schedule a FREE preview visit with us at any time.
What is your make up policy?
If your child misses a class, we are happy to have you make-up anytime in the session. You can email Mary at KindermusikwihMary@gmail.com


Can I bring siblings to class?
Our studio policy is that only enrolled children are allowed in the classroom. We DO allow infants to attend Our Time classes with their older siblings for free. Most parents find that wearing their babies in a sling/carrier or leaving them sleeping in their carseat works best. Once they turn 18 months old, you may enroll BOTH children in the Our Time class with the younger child receiving a 50% tuition discount.
Can both my spouse/partner and I attend class?
Kindermusik classes are designed to be a one on one experience with your child, but if there is floor space you are welcome to both attend. You are welcome to alternate who brings your child week to week.
My child has special needs. Is Kindermusik for her?
Absolutely! Children with autism, children with speech difficulty or delays, children with Down's syndrome, hearing impaired children and those with other physical, emotional and learning disorders have generally thrived AND improved with Kindermusik. What the program can do for non-typically developing children is ten-fold greater than even what it does for those who are typically developing.
My child doesn't participate the way other children do in class.
Not to worry! He is learning even though YOU don't see him participating. Pushing children to perform has no place in an Early Childhood program of any kind. We believe that you – the parent – is the child's most important teacher, and home is the most important place for that learning to grow.

When you stop and think about it, you already know that success should be measured more by what a child does all the rest of the week than what he does in the 45 minutes at Kindermusik class. And remember, Kindermusik is about process, not performance. Every child can be successful in a Kindermusik class, not matter what developmental level he is on. So have a blast dancing, singing, and playing instruments together at home the way we do in class! Before you know it, the same thing will happen at the studio.
Can babies truly benefit from Kindermusik?
We've learned that infants are born with billions of nerve cells and a nearly unlimited potential for connections between those nerve cells. Every time an infant has a sensory experience, neural pathways are formed. The greater the number of neural pathways, the greater the brain power. Rich sensory environments are vital to the brain development of infants.

In a Village class, we dance in a social setting to allow infants to understand and anticipate patterns, which preps their brains for math and musical theory. We play with steady beat, which underlies our ability to pick up the pattern of language. This is vital, because unless children can pick up the language patterns, they cannot learn to read and write.

The bonding and comforting activities we show you in class help you and baby to work through all the natural stresses that occur with growing and developing. Music increases coordination and balance, promotes literacy and language, cultivates listening skills, and encourages delightful and rewarding interaction with your baby!
Can I try out a class before enrolling?
Of course! Taking a Free Preview class is great way to get to know us and to learn what Kindermusik is all about. Please call us at 520-784-4344 or email us at KindermusikwithMary@gmail.com.
Why Register Early
Classes are filled on a first come, first served basis. Although you may join our classes at any time, please register early since class sizes are limited and many fill quickly. Registering early will also ensure that we will have your child's materials for you at your first class. A minimum of four students is needed or the class will be cancelled.
Is there a Discount for siblings?
Second child enrolled receives a 10% sibling discount. Twins rates vary depending on the level.
Refer a Friend
Refer a friend who enrolls (NEW to Kindermusik at Musical Steps) and receive a $10 referral award toward a future semester! NO limit! Just make sure your friend mentions your name when enrolling, or shoot us an email to let us know.